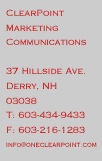 ClearPoint - The Virtual Agency
While the idea for a virtual marketing communications agency isn't altogether new, we've incorporated the best of what we've seen in full-service bricks and mortar agencies with the benefits of working in a virtual environment to create, ClearPoint.

Because we're virtual, we've discovered a world of freedom that we're able to pass along to our clients in the way of streamlined processes, reduced costs and accessibility to services that many small to mid-sized companies would otherwise not be able to afford.

Read more about this concept in our Strategic Architects section.